You may have noticed our newest button along the right hand side bar. We are now featured on QuilterBlogs.com!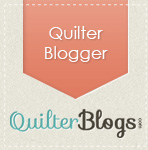 Quilter Blogs & Store Search
Tons of cool quilt-y stuff on their site, including a Giveaway Radar for free stuff, and lots and LOTS of cool quilt-related blogs on their blogger list.
An awesome way to spend some time in quilter's cyberspace. Check it out!